Welcome to The Hill Motel in Squaw Lake, MN
The Hill Motel provides outdoor enthusiasts with year-round direct access to Minnesota's natural amenities. Conveniently located on Minnesota Hwy. 46 in Squaw Lake, MN, we have seven exceptionally clean and comfortable lodging units that sleep from one to 11 people, and feature air conditioning, cable TV and wi-fi. One unit even has a gas stone fireplace. Ample parking is provided and convenient outdoor electrical outlets are available in the parking area for charging batteries or plugging in vehicles on cold winter nights.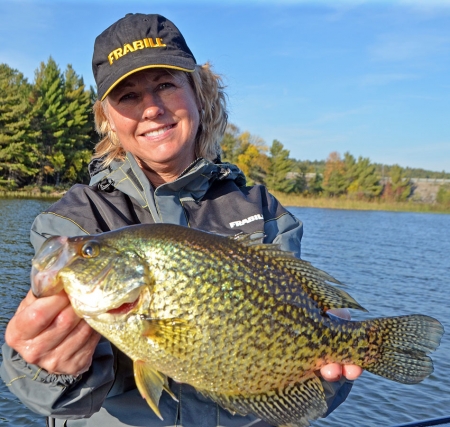 The Hill Motel is centrally located to many of the best walleye, northern pike, muskie, bass, crappie and panfish fishing lakes in Minnesota. We're only 5 miles from the north end of Lake Winnibigoshish's state-owned boat landing and great fishing on Lake Winnie and Cutfoot Sioux Lake. We're just 45 minutes from Red Lake and there are many other great fishing lakes like Round, Island, Sand and Bowstring within a short driving distance of the motel.
ATV Riding is a very popular activity in this part of the state. Hundreds of miles of ATV trails wind thru the northwoods and around lakes, rivers and wetlands. Itasca County has even adopted an ordinance that allows the operation of all terrain vehicles (ATVs) on all county roads except one.
There are many area attractions to discover during your stay at The Hill Motel. From championship golf, bowling, and casinos, to the Chippwa National Forest's "Lost 40" and day trips to Itasca State Park, Ironworld Discovery Center and Soudan Mine, you'll never run out of things to see and do.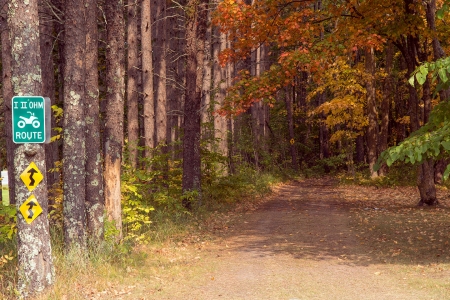 The Hill Motel makes a great base camp for your next northern Minnesota hunting trip. Whether you're hunting for grouse, waterfowl, whitetail deer or black bear, our amenities and location make us a great choice for fall lodging.
We're primed for winter at The Hill Motel! Our repeat ice fishing guests say we offer the best centralized location for fishing jumbo perch, walleye and panfish on the best area ice fishing lakes. Our heated on-site fish cleaning house is spacious with running water and electricity. Maybe this is the year you'll get hooked on darkhouse spearing as well.
The Hill Motel is snowmobile friendly, with parking allowed right up to your door and outside electrical outlets to plug in your vehicles! We have some of the best groomed snowmobile trails in Northern Minnesota, and the Avenue of Pines trail system goes right past the motel's parking lot.
We have the central location and comfortable lodging to keep you coming back year after year. Give us a call today to make your reservations: 218-659-9220.
Don't Miss Squaw Lake's
Annual St. Urho's Day
Celebration Mar. 17th
Mark your calendars and plan to attend the Annual St. Urho's Day Celebration & Parade on Saturday, March 17, 2018 (yes, St. Urho's Day is technically the 16th, but we have to work on Friday!) from 3 p.m. to 11 p.m., at the Squaw Lake Community Center. There will be a live band, full bar, pulled pork sandwiches, cream of wild rice soup, chili, dessert items and complementary smores for the kiddos.  The parade begins at 5 p.m.  The Annual Squaw Lake Fire Department's Perch Jerk is also on Saturday, from 11 a.m. to 1 p.m., on Round Lake.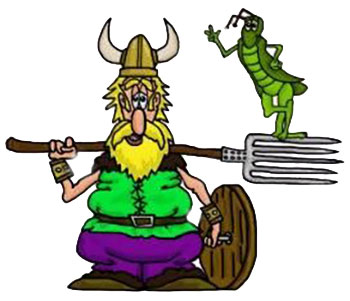 Help us celebrate St. Urho, who according to the legend that originated in northern Minnesota in the 1950s, chased the grasshoppers out of ancient Finland, thus saving the grape crop and the jobs of Finnish vineyard workers. He did this by uttering the phrase: "Heinäsirkka, heinäsirkka, mene täältä hiiteen" (roughly translated: "Grasshopper, grasshopper, go to Hell!"). His feast is celebrated by wearing the colors Royal Purple and Nile Green. St. Urho is nearly always represented with grapes and grasshoppers as part of the picture. Saint Urho has been recognized with proclamations in all 50 states.
---
Fire Destroys Restaurant & Lounge on Jan. 12, 2018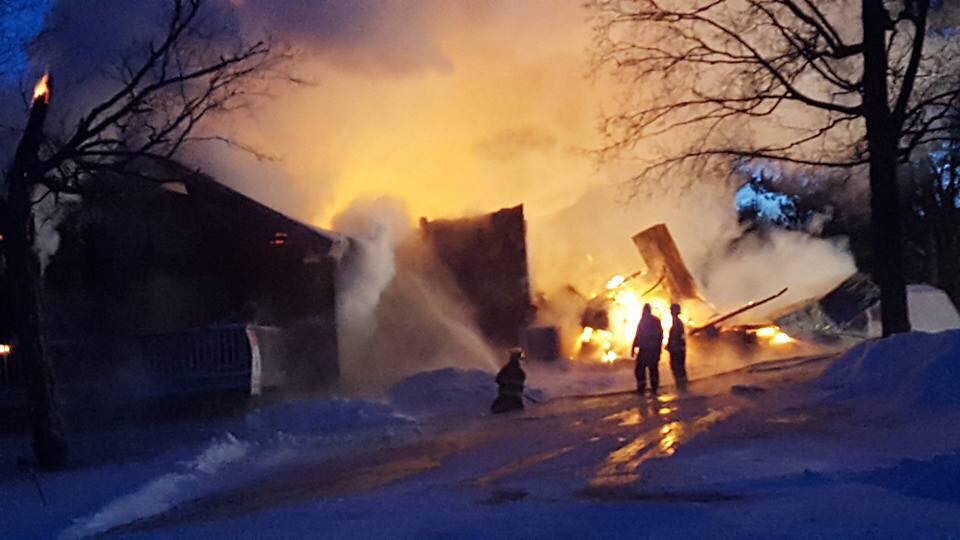 Early on the morning of Jan. 12, 2018, the Hill Restaurant & Lounge caught fire.  Despite the valiant efforts of multiple area fire departments in the -20 degree weather, the building was a complete loss.  We are devastated over the loss – so many years of history and community, gone.
The motel, the loft, the cottage, and the laundromat are in separate buildings and were not touched by the fire.  We welcome and encourage you to stay with us in any of these units.  Also, if you already had reservations for 2018, please contact us as soon as possible to confirm your reservations at 218-659-9220 since we lost our reservation book and computer files in the fire.
We have added a page dedicated to the restaurant and lounge here, (this page still under construction) and will keep everyone posted as we move forward with future plans.