Stay at The Hill Motel and Find Your Trophy Whitetail Buck This Year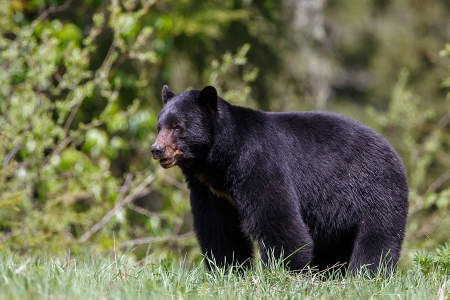 There's nothing like hunting for big game in Northern Minnesota, and that means black bear hunting.
Bear Hunting Season opens the beginning of September. According to the Department of Natural Resources, the Minnesota bear population is about 30,000 and has been estimated to be increasing at a rate of 6 to 7 percent each year. In 2017, 3,350 permits were offered through a lotter drawing in 13 permit areas. Hunters with licenses for permit areas are allowed to hunt for bears only in the permit area listed on their license.
The Black Bear was originally found throughout Minnesota, but now is primarily found in Minnesota's northern woodlands. Bears lead solitary lives except when females are rearing their young, or when concentrations of food bring bears together.
An adult Black Bear weighs between 250 and 300 pounds and stands two to three feet at the shoulders. Coat color may vary from light brown to deep black. The Black Bear is omnivorous, eating grasses, fruits, berries, buds or leaves, nuts, insects and their larvae, and on small animals, deer fawns, and carrion. Less than ten percent of a bear's food is animal matter. During hibernation, a female will give birth to one to four young. At birth, cubs weigh eight to ten ounces and are hairless. They grow rapidly, weigh about five pounds by the time they leave the den, and 60 to 100 pounds by their first year.
The area around Squaw Lake has little hunting pressure, and that normally ensures a higher success ratio for bear hunters here than in other areas. Use The Hill Motel as base camp for your next black bear hunt. Give us a call today to reserve your stay: 218-659-9220.
NOTE: Completion of a Hunter Education/Firearms Safety course is required to purchase a hunting license for anyone born on or after Dec. 31, 1979. Click here for the full story: http://www.dnr.state.mn.us/safety/index.html
Black Bear Hunting Information
Bear Hunt Lottery Deadline
May 6, 2022
Bear Baiting Start Date
August 12, 2022
Bear Hunting Season
Sept. 1 thru October 16, 2022