Minnesota Grouse Hunting Success at The Hill Motel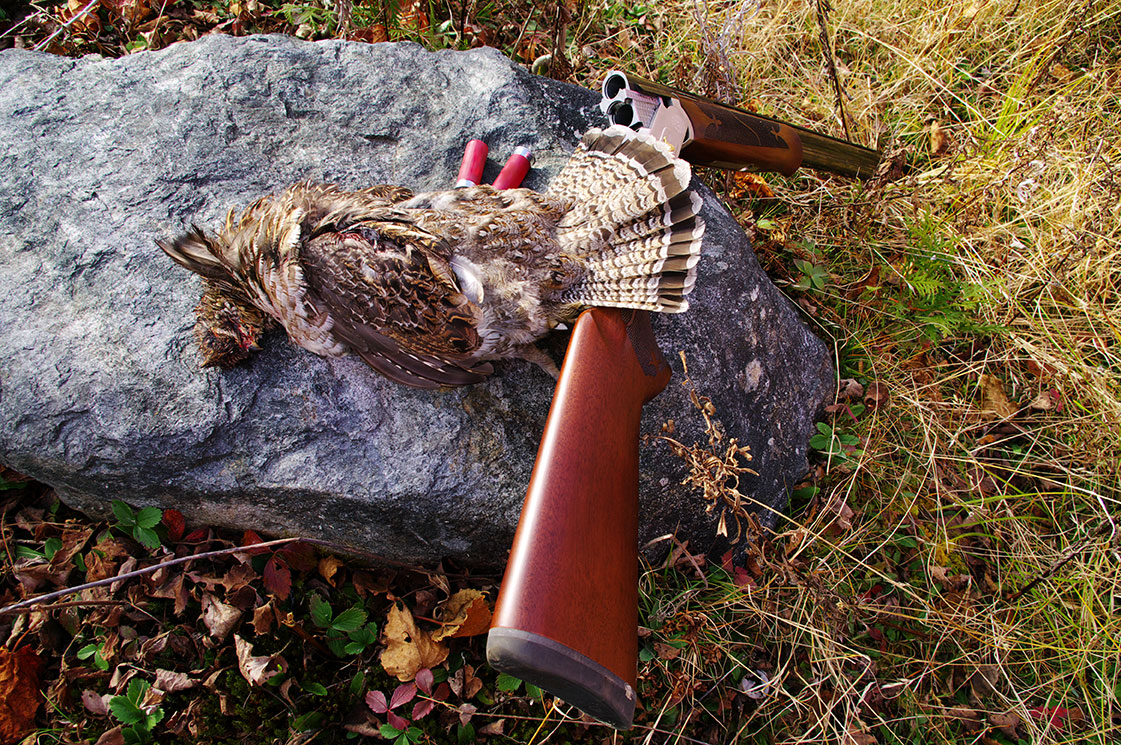 Minnesota is well-known for having some of the best grouse hunting in the entire nation. Each year, The Hill Motel hosts ruffed grouse hunters who take advantage of the high ruffed grouse flush rates of grouse in this area. Hunter success rates in the Chippewa National Forest are very high with the average harvest around 4.3 birds each year. Our great centralized location, on Minnesota Hwy. 46 in Squaw Lake, MN, means your hunting party can look forward to a great ruffed grouse hunt year after year.
The ruffed grouse is a native woodland bird about the size of a small chicken. The bird is noted for its fan-shaped tail marked by a broad, dark band. Some ruffed grouse–called red-phased birds–have chestnut-colored tails, and the gray-phased birds have gray or slate-colored tails. The bird also has a concealed neck ruff that the male puffs out during courtship displays. Male ruffed grouse make a well-known drumming noise that sounds similar to a distant lawnmower engine. He drums by beating his wings in the air, starting slowly as a series of thumps, and then, as beating speeds up, the sound resembles a drum or engine. The drumming occurs on logs, boulders, tree roots, or other elevated sites known as "drumming logs."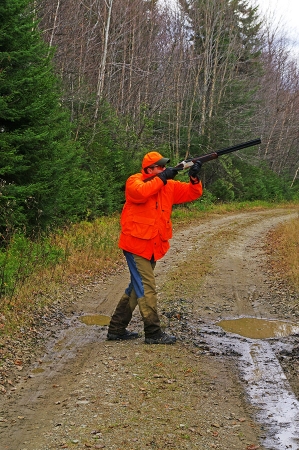 There are nearly 300 miles of walking trails in the Chippewa National Forest passing through some of the best grouse habitat. These areas move through small, well-distributed timber stands and openings to provide the different aged forest habitat that allow grouse to thrive.
Not counting a sturdy pair of boots, a blaze orange hat and vest and a shotgun, all you need to hunt grouse in Minnesota is a valid small game license. Hunters seeking woodcock must be HIP-certified (done when you purchase your Minnesota license) but do not need state or federal migratory bird stamps. Shotguns may not hold more than three shells unless a plug is used.
We have the central location and comfortable lodging to keep you coming back year after year. Plan your Minnesota Grouse Hunting Trip for The Hill Motel in Squaw Lake, MN. Call us today for reservations: 218-659-9220.
NOTE: Completion of a Hunter Education/Firearms Safety course is required to purchase a hunting license for anyone born on or after Dec. 31, 1979. Click here for the full story: http://www.dnr.state.mn.us/safety/index.html
Grouse Hunting Information
Ruffed Grouse, Spruce Grouse & Hungarian Partridge Season
Sep. 18, 2021 – Jan. 2, 2022
Sharptailed Grouse Season – Closed in Itasca County for 2021
2022-2023 Dates TBA