Minnesota Darkhouse Spearing for Northern Pike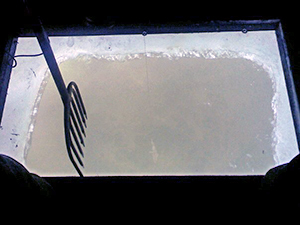 Darkhouse spearfishing is a method of harvesting fish through the ice using artificial fish decoys suspended in the clear water. When a fish comes up to see the decoy, you spear it. A large hole is needed in order to spear the fish and you need a fishhouse that is completely dark. (Hence the term, "Darkhouse".) After you first enter a darkhouse it takes a few moments for your eyes to adjust to the darkness. Once your eyes adjust, you lower your decoy down the hole into the water and get your spear ready. Darkhouse spearing usually targets northern pike, although other species are sometimes sought depending on state regulations.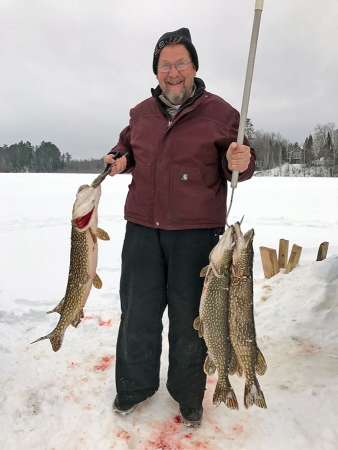 In Minnesota, both state residents and non-residents are allowed to spearfish in a darkhouse. You can spearfish and use regular angling techniques; and there's nothing like angling in a darkhouse. The ice-fishing hole below you becomes a big-screen TV – you can see all the fish, the bottom of the lake – and best of all, all the activity beneath the ice. From watching a school of bait fish dart through the field of view to catching a quick glimpse of a walleye in the background waiting to seize an opportunity to strike, anyone can enjoy the classic predator and prey drama that unfolds in the depths of the lake. The hole in the ice is a window to a whole new world. It's a great way to fish and enjoy nature.  Just remember, ice or darkhouse spearing takes skill, determination and patience to be successful.
Darkhouse Spearing Tip: One of the best tips for spearing fish it to throw the spear when the fish is facing away from you. This will reduce the odds of the fish seeing your motion as you throw the spear. Ideally you want to hit the fish in the back of the head. For best results, keep your spear in the water at all times, so you are prepared when a fish approaches.
The Hill Motel is centrally located to some of the best darkhouse spearing lakes in Minnesota. We offer plenty of parking and have outdoor electrical outlets available. Our on-site heated fish cleaning house is spacious with running water and electricity.  Make the The Hill Motel your lodging choice for your next Minnesota darkhouse spearfishing vacation.  Call us today for reservations: 218-659-9220.
Darkhouse Spearing Safety Tips
No ice should be considered safe.
It takes at least 4 inches of clear solid ice to support a person on foot, 5 inches for a snowmobile and 8-12 inches for a small car or truck – but ice varies from place to place on the same body of water and sometimes within 10 feet!
Check with local bait shops, resorts etc. as to the current ice conditions
Access the lake through an area resort and try to travel on plowed ice roads.
Consider walking or using a snowmobile or ATV, rather than a car or truck, and avoid ice travel during hours of darkness, when there's heavy snow or fog – drive slowly at all times.
Always let someone know where you are going and when to expect you back.
Avoid areas where there may be flowing water or currents.
Pressure ridges or ice heaves occur, especially on large lakes – these can be dangerous due to thin ice or an obstruction you may hit with a car, truck or snowmobile.
Carry a cellular phone with you – call 911 for any emergency